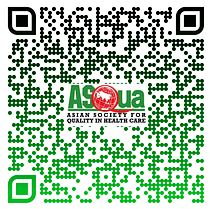 About the Webinar
The World Health Organisation (WHO) declared the COVID-19 outbreak a public health emergency (pandemic) on 11th March 2020. Since then, countries have taken strict measures to restrict movements. While there are huge efforts being made across the world and in Asia in particular, to respond and contain COVID-19, wider economic and social consequences such as patient safety, the displacement of people, disruption of supply chains and restrictions to the movement of goods and services are leaving a long trail of implications for organisations to manage.
Essential to this is the role of accreditation providers to empower healthcare facilities and services to brace the challenges and shortcomings by enabling business continuity with emphasis on quality and safety.

We are delighted to welcome the following speakers to share with us their expert insights of their country's strategies, actions, challenges and the role of standards and quality improvement programme, in response to COVID-19.
Dr. Pa-Chun Wang, CEO of Joint Commission of Taiwan (JCT), will share his insights on "Taiwan's perspectives on Challenges of COVID-19".
Dr Lena Low and Mr Michael Giuliano, Executive Directors ACHS International will share their expert talk on "Innovations arising from COVID-19 challenges"
Dr Bhupendra Kumar Rana, Founding CEO of Quality and Accreditation Institute (QAI), will share his insights on "Role of Standards in Pandemic".
Dr dr Sutoto, Chief Executive, Indonesia Commission on Accreditation of Hospitals (ICAHO); and
Dr dr H Hanny Ronosulistyo, Head of International Division, ICAHO will be presenting on "Indonesian perspectives - Challenges of Covid19 Pandemic".

Dr Atul Mohan Kochhar, CEO of National Accreditation Board for Hospitals and Healthcare Providers (NABH), will be speaking on "Adapting to the New Normal-Challenges and Opportunities"
Suggested pre-webinar reading –
1. Maintaining quality essential health services – WHO & ISQua
https://www.isqua.org/blog/covid-19/covid-19-recordings/webinar-recording-covid-19-and-maintaining-quality-essential-health-services-who.html
2. Quality Improvement, Epidemiology, and COVID-19 - IHI
http://www.ihi.org/resources/Pages/AudioandVideo/Quality-Improvement-Epidemiology-and-COVID-19.aspx
3. Global Challenges: COVID-19 and Lessons from the UK - IHI
http://www.ihi.org/resources/Pages/AudioandVideo/Global-Challenges-COVID-19-Lessons-from-UK.aspx
4. Promoting patient safety at time of COVID-19 - ISQua
https://www.isqua.org/blog/covid-19/covid-19-recordings/webinar-recording-promoting-patient-safety-at-time-of-covid-19.html
Watch Webinar recording below